Filed in:
Today, 31 years ago Apple launched the first Macintosh personal computer.
The Macintosh has been one of Apple's most game changers. Today most of personal computers use what the Macintosh brought into the forefront of computing: Mice, Graphical User Interface, and Copy/Paste. Without Apple, Microsoft would never of created or released Windows as DOS was the money maker for them.
Xerox was the one who created the mouse and the GUI, but they never thought anyone would use it. Apple's $1 million dollar gift to Xerox Parc Place changes all of that.
You the consumer is the winner – so show Apple some well deserved love and buy a new Macintosh this year. You too Windows, Android, and Linux fanboys!
Comments
comments
Powered by Facebook Comments
Yes, Google has done it again by recently updating their apps recently to support the iPhone 6 and 6 Plus screen size. It has only been 3 Months!
Thank goodness Apple let all iPhone apps on the new iPhone 6 and 6 Plus run as is.
Updated yesterday on my iPhone 6 Plus was G+ and Google app. Maybe you can wait until 2016 to get your 2015 updates out? Yea, most likely.
Comments
comments
Powered by Facebook Comments
October 29, 2014 By:
Apple
Filed in:
Yes it is time to BAN Walmart for not accepting Apple Pay.   I know I will NEVER shop at Walmart again since they said they will not accept Apple Pay.
Walmart wants you to use their preferred mobile payment method using Merchant Customer Exchange(MCX) CurrentC.
Who is MCX? What have they done to warrant me to surrender my personal account information?
They are a company started by certain stores themselves.  Yea seems fishy to me too. Aren't these the same stores who have had security breaches in the recent past telling me they don't know anything about securing my personal data on their servers?  Yes, some of them.
Why don't I like CurrentC's approach?
Lets see. It is an unknown group that wants your Checking Account Number, Driver's License Number, and Social Security Number.
From support.currentc.com – their Support Area:
MCX you have not earned the right to possess or look at any of my personal information. Apple does not ask me for it for their Apple Pay, nor should you.
Source: support.currentc.com, mcx.com
Comments
comments
Powered by Facebook Comments
October 27, 2014 By:
Misc
Filed in:
Since CVS and Rite-Aid are not supporting Apple Pay, I encourage you to do the same as I – BAN CVS AND RITE-AID!
It is obviously CVS and Rite-Aid don't support future forward-thinking approaches like Apple Pay that protect MY credit card DATA!
Sorry CVS and Rite-aid.  My personal information is more important than your bottom line. Many retailer's cash registers are being hacked already and I don't want my credit card info being stored on retailer's servers. Apple Pay solves that problem.
SUPPORT Walgreens like I am doing. Walgreens you rock for helping keep my credit card data safe!
Comments
comments
Powered by Facebook Comments
Apple Pay is here today and it works flawlessly and beautiful!
There I said it. The future of mobile payments is here and I just quickly paid for a quick meal in seconds.
The process is as quick as this when I bought my lunch today (Thanks for the picture McDonalds!):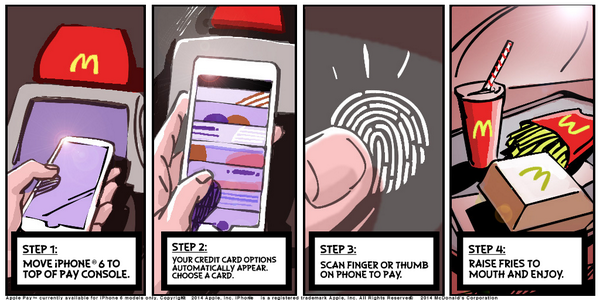 The setup was as easy:
Install Update iOS 8.1 (US supports Apple Pay).
Go to Settings > Passbook & Apple Pay
Set up your default settings (Addresses, phone, email)
Add you cards with your camera, then manually enter in the CCV2 number.
Verify and they are added to PassBook at the top of your SPG, Starbucks gift card, etc.
It could not get any easier than this.
I appreciate all of the VISA commercials saying their mobile payments are just as easy. If they were we would of all of been using these already.  Save the confusion and just use Apple Pay as VISA works with Apple Pay.
So places that I will continue to shop at includes: Macys, McDonalds, Subway, Whole Foods, PetCo, Panera Bread
Places I WONT VISIT AGAIN (until they have Apple Pay): Burger King, Taco Bell, Best Buy, Walmart
To be continued…
Comments
comments
Powered by Facebook Comments
Hooray! You have a new iPhone 6 or iPhone 6 Plus and need a guide to quickly get your current iPhone content into it. Here you go!
1) Remove anything you don't need on your current iPhone.
Pictures (or backup to iPhoto or your Window Photos directory)
Music, Music Videos, iBooks, or Movies – have a few albums you don't want to listed, use iTunes to not sync them.
Applications – Use iTunes to not sync them anymore.
The more clutter you clean up now the faster your transfer time will be to your backup and to your new iPhone.
2) Update any apps to iOS 8 compatible on your old iPhone. Many times an update is available but the app will run yet on iOS 7. Update to make sure the older version won't cause havoc on your new iPhone – this is more of a "better safe than sorry".
3) Backup using iTunes. I think this is the best way as you can enable toe Encrypt iPhone backup option and store all of your passwords in the backup. Then the only password you will need to remember if the one used for this backup and your iCloud password on your new iPhone.
Select your old iPhone and select "This computer" and check "Encrypt iPhone backup".
Once I did not do this and every app I loaded (and iOS) prompted me for my password. This was very painful so save yourself by using the Encrypt option.
** If you are upgrading from a non-Apple smartphone – then use iTunes to transfer as much as your content as you can. The rest you will have to manually set up.
4 ) Plug in your new iPhone and using iTunes restore from that last backup. Proceed with the new setup on the iPhone afterwards and you should be all set.
5) Set up TouchID to get ready for ApplePay and other secure passwords.
6) Update any apps to take advantage of the new iOS features that were not updated in step 2 above under iOS 7.
Have fun!!
Source: http://support.apple.com/kb/HT1386
Comments
comments
Powered by Facebook Comments
Let's face it. My latest PC purchase was not a Mac but a Lenovo Horizon 2 27″ touch screen large table PC. I love the design of a 27″ large tablet enabled with a touch screen. It reminds me of my iPad.
If there was one thing that could of made me thing twice would be the omission of iCloud and iTunes. Without these two knockout punches I may of either left the Apple ecosystem fully or just used the Lenovo as an island.
iCloud and iTunes lets me still share my network resources with the new PC the same way I could with my Macs. Brilliant Apple!
So when I need a new smartphone I will only consider the iPhone because it will still work with what I have. Content – yes. devices – yes.
So Apple saved a customer from leaving and enhanced boring Windows with Apple's goodness. It is good to be alive with how easy and awesome Apple is making our lives. I cannot wait for the 5.5″ iPhone 6!
Comments
comments
Powered by Facebook Comments
Filed in:
Lets say you have an external SuperDrive and you need to get it working under your Windows Bootcamp partition. These drivers may not of been loaded during the install of the Bootcamp drivers if the drive was not plugged in.
How to get it to work
Plug the SuperDrive in (don't insert a disc yet)
Download the Bootcamp 2.1 Drivers from the Leopard disk or

here

If you have a Mac OS X Leopard disk the file is located here D:\Boot Camp\Drivers\Apple (or D:\Boot Camp\Drivers\Apple\x64)
Run AppleODDInstaller.exe and accept all prompts.
Restart Windows.
I tested this under Windows 8.1 in August 2014 on a Lenovo Horizon 2.
Comments
comments
Powered by Facebook Comments
What? Did the earth shatter and the end of life coming soon?  Well no.
I did a comparison and found out that with how I use my MacBook Pro there is 1 application that I need to use that only runs on a Mac. Rapidweaver, my web creation tool. The rest of what I use I can get by with Windows versions or web versions of the apps. iCloud in Windows really helped me make this decision.
What I wanted
- Large screen – 15.4″ or larger – I am tired of my 13.3″ screen.
- Minimum of 8GB of RAM
- SSD hard drive (or expandable to one)
- Latest i5 or larger
- Dedicated Graphic Card – Nvidia or ATI
- Lower prices of the last years 15.4″ MBPs.
What the Lenovo Horizon 2 27″ Table PC brings to the table
- 27″ Screen
- 8GB of RAM
- Standard 5400 HD but can expanded to any SSD hard drive. I put in Crucial MX100 512GB SSD for an extra $200 – cheap and fast! The 1TB is now a backup image drive.
- 4th Generation i5 at 1.7 GHz – It can step up to 2.7GHz when it needs too with Turbo Boost.
- Nvidia 840A graphics with 2GB dedicated video memory.
- Priced lower than the current 15.4″ MBP with non-dedicated graphics.
What I don't need
- Mac OS – I hate to say it but when I am in my apps the OS is becoming less and less important. Windows is "good enough" of an app launcher. I don't really use a lot of Windows features. The Mac OS specific features I also have not really used. I use any OS like it is System 6.0.8 – It is there working and loading the applications while pulling files off of/ save to the drives and network shares.
- Retina display – I decided that the 1920×1080 resolution is what I want. I don't need a smaller display with more dpi making everything smaller yet. Since I encode all of my videos and movies at 1920×1080, right now I don't need more. I am not recording 4K video yet. Give me 5 more years.
Bonuses of the Lenovo Horizon 2 27″ Table PC
- Touch screen with 10 point touch – nice for family games
- Being able to put it in "table mode" to play family games. (lets hope more get made for the Aura interface or just any tablet in general)
- I can run other apps made for the Windows tablets on it  - like Rival Knights. Yea, they don't have a largest selection but I also don't use that many apps. I use more apps on my iPhone and iPad than I do on my Mac and Windows PCs.
- HDMI in port
- Battery so it is portable. I can take it out on my patio and work or play with ease (only 16 pounds).
The One Mac Application
What is my solution for the one Mac application (Rapidweaver) that I need to use with no Windows or web replacement? Use my MacBook Pro laptop with an Display-port to HDMI adapter connected to my Lenovo Horizon 2 which will display the MBP screen nice and big. I can use the same wireless keyboard and mouse by moving the USB dongle from the Lenovo Horizon 2 to the MacBook Pro. Simple and easy.
What about the 27″ iMac?
I looked at the iMacs but they have a fixed stand like all of the other all-in-ones. The closest one has a 27″ non-touch screen. You get a desktop class powerful 3.2 GHz i5 CPU (turbo boost is 3.6). A dedicated Nvidia GeForce 755M with a paltry 1GB of video RAM.  Price is $1799 but it is not portable. Being portable is important to me for my needs. So Even though the price was close, I still have to pass.
What am I leaving behind?
I have purchased some Mac only games that I won't be running on my new Horizon 2 since that is running Windows. But with the HDMI in port on the Horizon 2 and the Mini-Display-port to HDMI adapter I can easily connect the MBP laptop that has the games on there. That MBP is far from death with those games, so I won't have to repurchase them. I don't see that I am leaving behind anything just adding on to it.
Score!
I found a way for a larger screen (much larger) for less money with the video resolution I wanted with dedicated graphics with 2GB of video RAM and a i5 CPU chip. I wish Apple had something similar but they want to lock up the only option for a mobile dedicated graphics card for the $2,500 MBP or I can get a desktop (non-mobile) 27″ iMac with no battery.
Sorry Apple, this round you lost a hardware purchase BUT there is a silver lining = iCloud!
With iCloud integration I am still in Apple's wonderful world with music, movies, TV shows, books, and it all just works as well in Windows as it does on the Mac. This means I don't have to try to convert or re-buy content.   So Apple still wins with me continuing to buy content from the iTunes store.  I bought this week alone 2 albums through iTunes! Huzzah!
Comments
comments
Powered by Facebook Comments
Filed in:
On my search for a new Personal Computer I wanted to see how I could tie in my Windows partitions into the benefits of iCloud.
Benefits of iCloud include:
- Syncing of Safari Bookmarks
- Apps save data automatically to the drive sharing spot
- Mail account sync
- Contacts sync
- Calendar sync
- Notes sync (using the Notes app)
- Reminders sync
- PhotoSteam (last 1,000 photos are available on all devices)
- iTunes (download or stream music, movies, tv shows, and iTunes Match)
- iBooks Store sync
What do I use of iCloud is the first question and what is important to me?
Using iCloud as a online file storage does not appeal to me, I use a different service for that. I have my own domain for email so email syncing that is not important for me. I won't use the iCloud .me free email accounts, I just don't have a use for them. For each email account on my domain I manually put them on the device I want to use them on. It is a pain but I can control what accounts are on what devices.
Since I use my iPad Mini anything like messaging (IM), reminders, mail, calendar, contacts, and iBooks; those don't have to be on a replacement Windows laptop. If I do need to view these I can always use the Mac's built-in apps (through a screen share) or icloud.com with a web browser.
It would be more of a convenience than a requirement. If I travel I have been taking my iPad/iPhone combo and leaving the MBP laptop at home. My last two trips I did that and it worked out great – Austin, TX and Ireland/Scotland/France.
I do use PhotoStream, Safari bookmark syncing, and iTunes for my media. Being able to sync these is important. 
Where can I use iCloud?
Macintosh, iPad, iPhone of course.  Plus Windows. What? Windows?  I discovered this when I was searching for what iCloud all does to make sure I know what it will do for me. I had to try it out. Many friends of mine who use Windows always complain of iTunes support in Windows. Once I downloaded iTunes, Quicktime, and iCloud for Windows I quickly setup my accounts, synced and looked at the results.
In Short – iCloud/iTunes on Windows works great. This surprises me a little bit. 
Long version - 
iTunes for Windows works just like iTunes does on the Mac. Music, movies, tv shows, podcasts, iPhone/iPad syncing plus backups. iTunes on Windows also does photo syncing from my iPhone or iPad which is nice. It puts the content into the local file structure where I can move them to my media server.
iCloud let me do many things including mail/calendar/contacts/reminders sync into Outlook. I don't need these things synced into Outlook as I think email through the Outlook email application is not secure so I checked this setting off. I did set up an account in Outlook with no email just to get the iCloud stuff installed and synced. This worked real well.
Going through iPhoto on the Mac ended up being more cumbersome just to sync photos from my Photostream. If I were to modify each photo before saving then using iPhoto would make sense. I rarely touch up my photos so just syncing them to a file system makes more sense for me. Plus it is faster.
Browser bookmark syncing into IE, Chrome, or Firefox works as good as bookmark syncing from Safari. I use this a lot and that Apple made this happen is stupendous. I know that if I went all to Chrome or Firefox I would have this, but the iCloud way I think is a better approach as I am not tied into just using just one browser. 
iBooks can be synced from iTunes for Windows to my iPhone and iPad. I don't read books on my MBP or Mac Pro, just on my iPad Mini so this works.
It makes sense for Apple to include Windows PCs with these enhancements. Not every house will be Mac only (no matter how hard I tried it was not successful – there was always a few Windows apps I needed to run).
iWorks on the web works pretty good. I had already standardized on MS Office way back for cross-platform so it just stuck. iWorks apps (Pages, Excel, and Keynote) works a lot different and I still struggle a little bit.
Conclusion on using iCloud in Windows
If you are like me and have bitten into the Apple media and cloud services, iCloud for Windows will enable your Windows boxes to work with everything you already have from Apple. 
Source: http://help.apple.com/icloud/#/mmfc0efea4
Comments
comments
Powered by Facebook Comments