Apple Pay is here today and it works flawlessly and beautiful!
There I said it. The future of mobile payments is here and I just quickly paid for a quick meal in seconds.
The process is as quick as this when I bought my lunch today (Thanks for the picture McDonalds!):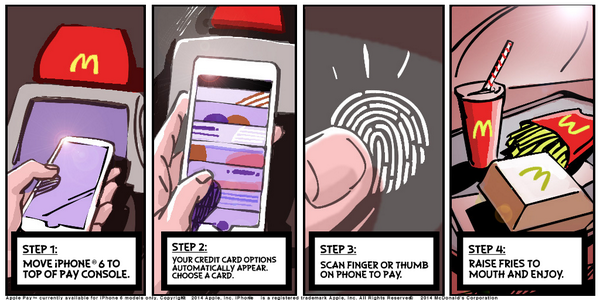 The setup was as easy:
Install Update iOS 8.1 (US supports Apple Pay).
Go to Settings > Passbook & Apple Pay
Set up your default settings (Addresses, phone, email)
Add you cards with your camera, then manually enter in the CCV2 number.
Verify and they are added to PassBook at the top of your SPG, Starbucks gift card, etc.
It could not get any easier than this.
I appreciate all of the VISA commercials saying their mobile payments are just as easy. If they were we would of all of been using these already.  Save the confusion and just use Apple Pay as VISA works with Apple Pay.
So places that I will continue to shop at includes: Macys, McDonalds, Subway, Whole Foods, PetCo, Panera Bread
Places I WONT VISIT AGAIN (until they have Apple Pay): Burger King, Taco Bell, Best Buy, Walmart
To be continued…
Leave a Reply
You must be logged in to post a comment.