I have been very critical of the iPhone X with the letterboxing that seems to be used and not used in the past two months.
The Samsung Galaxy Note8 has this problem with movies/videos, games, and YouTube. Plus the Samsung stock launcher has an area that cannot be used for icons or widgets. I was not really expecting this. All of this makes the 6.3″ screen into a 5.3″ screen while in landscape mode.  This should not be so.   -1 towards the Note8!
With the Samsung stock launcher they could of made that wasted space usable since Nova Lanucher can. In the video player and YouTube you can set an option to zoom is, but why should you have to?  The game is just laziness of the developer not to support anything larger than 5″ screen.
The limitations of the iPhone X are starting to not look like limitations any longer. Every smartphone has these same struggles.
I have been playing South Park Phone Destroyer and here is my screen shot of being destroyed by another player who throws in 8 guys and a few lighting bolts in within the first 17 seconds. The other player is using some hacks and cheats to so this.  With only 10 energy points to start with and it slowly fills more as you play – He had played 32 points of energy within the first 17 seconds! Where I played only 9 points and only got back 3 energy points more.
I researched this and found that this has been going on since the game's release weeks ago really means I am gave this game 1 star. Obviously the game developer does not want this as they say "report him" with no in app way to report another player (that I have found). This report button should be on the PVP screen and if done right after a match, the game developer's servers would know who that person was to prevent report grieving.
This game will get NO money for their DLC from me. At first I thought this was just a Pay to Win game with all of the stuff they push you to buy with real game money. Now it is a scamming game with cheaters running rampant!
Yesterday, I took advantage of a sale that netted me 30% off any two iTunes gift cards. All of my music is in iTunes either by ripping my physical CD's or buying digital content.
Wait?  Didn't you buy a Galaxy Note8?  Yes, I did and all of my iTunes content works with little fuss. I also bought an iPhone X which is now my daily driver. The Note 8 is really just a foreign language translator with the Spen and the translate Air command the Note 8 is really just a weak iPhone clone that did not do it right.
A long time ago Apple made iTunes Plus and iTunes Match which made all of my music DRM-free and 256 kbps.  Plus I have had Macs since 1984 and iPads since 2010. I have been living the iPad Life baby!
Anything that still has DRM (movies, music videos, etc) I convert so I can use them on other devices.
So even though I have added a Note8, it is still part of my larger Apple iTunes eco-system. Even though the Note 8 has massive letterboxing while watching video and playing mobile games.
–
–
–
–
–
–
–
–
–
–
–
–
–
–
–
–
–
–
–
–
–
Filed in:
Today marks the 10th Anniversary of the iPhone. The day Apple and Steve Jobs changed the world again.
Again you say? There were many other products that Apple released:
– 1984 Macintosh
– 2001 iPod
Not only did these products change myself, they changed the computing industry, and the world.
Macintosh introduced the GUI to the masses that was affordable at $2,499. Xerox created the GUI and did not really see a commercial product. Steve Jobs give Xerox the ability to buy Apple IPO stock in 1980 to use the GUI. That stock has not only split but increased in value many times over.
iPod made 1,000 songs to be available in your pocket. The real revolution this caused was an easy way to get music onto a portable digital player.
Without these pushes we would still have Microosft DOS command line and clunky MP3 players that cannot play any song.
Today we have plenty of wonderful capabilities including the original ability of phone calls, the full Internet in Safari, and a widescreen iPod. These three abilities was the main revolutionary abilities of the original iPhone. Back then these were not available in the existing "smart phones". Those "smart phones" gave you limited mobile internet as it could not handle all of it. Limited version of email (from a few providers). iPhone handled all of that and gave you more.
Thank you Apple and everyone under Steve Jobs for all of your awesome work in getting this product out the enrich our lives.
Filed in:
GoodNotes is available for the iPad, iPhone, and Mac platforms.

GoodNotes is a note taking application that you an enter text into text boxes or use handwriting ink to create content. That handwriting ink is saved as a vector graphic so it can be scaled with no pixelating and is searchable. You can import PDFs and annotate them. You can export any note as a PDF. Pretty powerful and flexible. Includes native Apple Pencil support on my iPad Pro and iCloud syncing.
My eureka moment is when I starting finding samples of planners and bullet journal pages as PDFs and realizing that means in GoodNotes I can import them in and draw over them as I needed. BINGO! My solution.
What I did was get the free Passion Planner PDF pages, since I liked thier layout and extras and imported them in. I choose the compact version so I could have "two pages" on one GoodNotes page. Importing them in made one page per PDF page. Perfect!
To import in GoodNotes while in a book you can tap the "+" button on the upper left and "add page above / below" options from the template library. Or just import a PDF as a new page by tapping on the 4 squares in the upper left and then tap the "+" button and Importing the page. Simple.
The flexibility is I can delete any Passion Planner pages I did not want to keep. I added in a water tracker and a notes page between my planner pages. This is the same as the physical Passion Planner or Bullet Journal that many enhance with tape.
The notes page I can freehand my notes and reference any event. Free handing in drawings or weather conditions can be helpful. GoodNotes lets me export any page as a PDF so if I need to change a page or add in an optional budget journal I can mark it up, export it to any cloud storage, and import that page in. That saves my changes into the background.
So I had the solution I needed with minimal modification in a digital approach where I can sync my notes from my iPad Pro to my iPhone or Mac with no fuss.
Filed in:
After three years of trying to find a methodology of keeping my work and personal life organized. I am trying something new this year.
I researched what people have been doing to keep organized. I found something called a Bullet Journal (or BuJu for short) and also rediscovered a paper approach called Passion Planner. Below are simplistic descriptions and you can get more information from their websites.
I first heard about Passion Planner two years ago. www.passionplanner.com

This planner was created in 2013 by Angelia Trinidad. It has the approach of a planner with extras to help you figure out what is important to you. There are many sections like a roadmap over the next many years, reflections for the past month, and checklist for each month. This approach keeps you on track. I dismissed the Passion Planner since I was trying to find a digital means and had stopped my physical Moleskine paper notebook and digital Evernote combination approach. I do like some of the ideas of this system. I liked the setup of the traditional planner layout that Passion Planner has and rediscovered this product again in January 2017.
Bullet Journal is a quick minimalistic approach to keeping track of everything in a physical paper way. www.bulletjournal.com

Bullet Journal was created in 2013 by Ryder Carroll. You use an index to keep track of where stuff is by page number. Have a key so you know what symbols (like a bullet, circle, square, "X", etc) are events, tasks, and notes. Then layout everything for month, week, and day. Since you are creating all of this in a paper journal with dots for the paper you can draw out everything where you want and how you want it. If you like writing, drawing, and wanting to spend a lot of time laying out the pages, this is the system for you. I did not want to spend a lot of time making my pages. I do like some of the ideas of this system.
I looked for a digital approach but no apps exist that follows either of these approaches. What I did find was a large community of blogs, Facebook groups, and people sharing ideas. Perfect. Both communities has something I like. Maybe not all of the ideas but a lot.
Hmmm, I thought. What if I combined these into "my system". I like the planner approach of month and week. I like the ability to add notes and todos and carry them forward. I like being able to keep it flexible.
I looked for an app. Nothing like these. Just the traditional journal apps with text entry only or the traditional planner apps with no customability.
I still longed for a replacement for my Apple Newton I used in 1990. iPad and iPhone was close but no native handwriting ink and shape recognition with a stylus/pencil. There has been add ons that I used to kind of give it that ability. Nothing really worked across the entire device.
What if I could take a template and just write on it with digital ink? What if I could add bookmarks to use for my "index"? Then it hit me. I have bought a product a year or two ago that would work.
GoodNotes!
Filed in:
Time to get organized again for the new year. I decided that after the past three years of trying different ways of organizing my work and personal life I was going to look for a way that fits me. Here is my journey.
Previously I always use used a calendar app in iCal, Calendar in iOS, and Outlook. They synced together good but my notes were separate.
Three years ago I went with the Evernote solution as I could load that app on my iPad, iPhone, Mac, and Windows computers. Being able to access everything everywhere was important. With the free plan I did not have any limits. The only times I had a limit was when I was back loading notes and research results from prior years that were still relevant. I bought a Moleskine Evernote book which came with a free month of Premium. I used this Moleskine book as a way to capture handwritten notes and uploaded a photo of them. Evernote could search on these notes which bridged the pen and text worlds. Planner type of events with using the Calendar app and Outlook at work synced. Anytime I needed more upload capacity of Premium I would buy the Evernote post it notes or found a great deal once on a year of Premium for a reasonable cost. My planner type of stuff was still in the Calendar app.
Two years ago I also tried the Livescribe pen and book system. Very expensive and it was no better then the Moleskine book. Plus if you needed to buy a new book for more notes and it was the same book (just blank) there was no way to specify it to be different so I had to buy additional books from Livescribe with different encoding. There was a max I think of 4 or 5 books total. I would end up with notes saying "Book 1" for my work journal. And If I reused this book later it would still upload as "Book 1" even if it was for my personal. This broke the bank on this system and I returned the Livescribe system.
I tried different apps with planners, todo lists, and the ability to track everything. I tried out 15 apps and many were nice but none fulfilled everything. I tried GoodNotes, INKcredible, Notabliity, Penultimate, Notes Plus, and others. They all had handwriting with a few templates of lined paper, grid paper, and blank paper. Some may of had more papers available but they were not what I was looking for. Many had annotating PDFs which would be great in a classroom or signing documents.
So two years ago I bought Awesome Notes for both my iPad and iPhone. It had an Evernote sync functionality so I could make a change on one and upload to the other. My iPhone was my portable note pad while my iPad was my main data entry tool.

The one thing I missed with Awesome Notes was real handwriting. In late 2015 I bought an iPad Pro and an Apple Pencil so Awesome Notes was showing it's age fast. If you wanted to just type out your notes and add pictures or maps in separate containers Awesome Notes would work. I wanted to incorporate my handwriting ink to be searched.
Microsoft OneNote came into the picture. I liked the ability to write with ink and then convert it later into text like my Apple Newton did over two decade ago. There was shape recognition support eventually so this was nice so I could use OneNote on all four platforms (iPhone, iPad, Mac, and Windows).

I bought the Office 365 to get Word, PowerPoint, and Excel working on my iPad Pro – this also gave me more storage space for my notebooks in OneDrive. That convert from ink to text was only in one of the two Windows versions of OneNote. Shape recognition was only in the mobile versions of OneNote. Syncing was a nightmare as the sync would corrupt my OneNote books if I did not "close out properly" and I lost tons of notes. Microsoft started to limit the about of stuff you could store in OneDrive about this time too.
I decided that Outline+ was the next move as it could read OneNote books directly. The only problem was it was available for the iPad only.
No iPhone version (which came out in December 2016) existed back in 2015. There was a Mac version so maybe I could get this to work. No real handwriting with ink halted this quickly. These handwritten notes would be part of a "drawing mode" that was not able to be searched as text. If you wanted to use this drawing mode to make a drawing or sketch, it would work for that. This would not work for me. Typing notes and adding in pictures or attachments is Outline+'s strength and it was not what I was looking for.
In December 2016 I rediscovered something that would work once I understood what one feature finally meant.
Filed in:
The Sandisk iXpand flash drive is an amazing flash drive. It features a USB 3.0 port and a Lightining port. Connecting this to any Mac or PC to copy music/Video/pictures or documents is fast and as easy as copying files to any other drive.
You will run no your iOS device the Sandisk iXpand specific app. What is nice is when you first plug int he iXpand it will ask to bring you to the App Store and download the right app!
The best part is the Lightining port that connects to your iPad Pro (or any other iPhone and iPad). It can play 1080P video with ease to the device (4k video recording from an iPhone 6s could not be played back).
Encryption is an option to make it an encrypted drive.
The 128GB option is the only one I feel is worthly of owning as you cannot have too much space on a flash drive. As of this posting it is $119 US for 128GB.
Apple Pay is here today and it works flawlessly and beautiful!
There I said it. The future of mobile payments is here and I just quickly paid for a quick meal in seconds.
The process is as quick as this when I bought my lunch today (Thanks for the picture McDonalds!):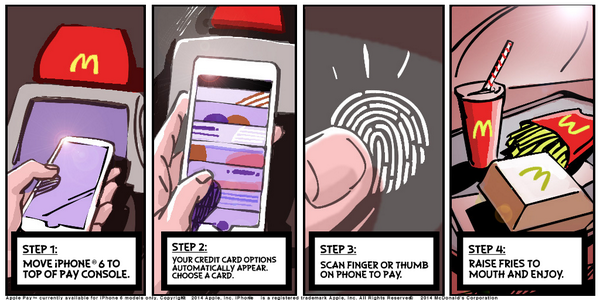 The setup was as easy:
Install Update iOS 8.1 (US supports Apple Pay).
Go to Settings > Passbook & Apple Pay
Set up your default settings (Addresses, phone, email)
Add you cards with your camera, then manually enter in the CCV2 number.
Verify and they are added to PassBook at the top of your SPG, Starbucks gift card, etc.
It could not get any easier than this.
I appreciate all of the VISA commercials saying their mobile payments are just as easy. If they were we would of all of been using these already.  Save the confusion and just use Apple Pay as VISA works with Apple Pay.
So places that I will continue to shop at includes: Macys, McDonalds, Subway, Whole Foods, PetCo, Panera Bread
Places I WONT VISIT AGAIN (until they have Apple Pay): Burger King, Taco Bell, Best Buy, Walmart
To be continued…
Hooray! You have a new iPhone 6 or iPhone 6 Plus and need a guide to quickly get your current iPhone content into it. Here you go!
1) Remove anything you don't need on your current iPhone.
Pictures (or backup to iPhoto or your Window Photos directory)
Music, Music Videos, iBooks, or Movies – have a few albums you don't want to listed, use iTunes to not sync them.
Applications – Use iTunes to not sync them anymore.
The more clutter you clean up now the faster your transfer time will be to your backup and to your new iPhone.
2) Update any apps to iOS 8 compatible on your old iPhone. Many times an update is available but the app will run yet on iOS 7. Update to make sure the older version won't cause havoc on your new iPhone – this is more of a "better safe than sorry".
3) Backup using iTunes. I think this is the best way as you can enable toe Encrypt iPhone backup option and store all of your passwords in the backup. Then the only password you will need to remember if the one used for this backup and your iCloud password on your new iPhone.
Select your old iPhone and select "This computer" and check "Encrypt iPhone backup".
Once I did not do this and every app I loaded (and iOS) prompted me for my password. This was very painful so save yourself by using the Encrypt option.
** If you are upgrading from a non-Apple smartphone – then use iTunes to transfer as much as your content as you can. The rest you will have to manually set up.
4 ) Plug in your new iPhone and using iTunes restore from that last backup. Proceed with the new setup on the iPhone afterwards and you should be all set.
5) Set up TouchID to get ready for ApplePay and other secure passwords.
6) Update any apps to take advantage of the new iOS features that were not updated in step 2 above under iOS 7.
8) Have fun!!
Source: http://support.apple.com/kb/HT1386