Filed in:
The first day was getting used to how to operate it. I think it is very simple and there is a new world of scrolling with the crown, force touching, and swiping. Once you get used to it how the Apple Watch works, it is second nature. Just like learning how to use your first iPhone.
I was promised to get my Apple Watch Sport Space Grey 42″ (yea, the most popular one) on May 13th. I ordered it on April 10th at 12:02am. I was not real happy that I could not get it right away but after reading the reports of this Space Grey model sold out immediately I was ok. I received it on May 7th!  Thank you Apple for the early free next day air shipping!
Comfortable
The watch is comfortable with the black rubber strap snugly to my wrist. Usually bands like the stainless steel or leather slid around a bit on my wrist and I need top "shake then" to re-position that watch. This is the main reason I stopped wearing watches a few years ago. All of the re-positioning.
I will test a few stainless steel (space grey and space black) bands and leather bands with the necessary The Click! 22mm watch band adapter when I receive it next month or so. Stay tuned!
Set Up
The setup was real easy, just point my iPhone to the watch when prompted and bam! Instant connection. I prefer not having to pay an additional fee to use my Apple Watch so the relationship you need between the iPhone and the Apple Watch is necessary to me. If the Apple Watch had it's own cell chip for making calls and view data on it's own would require you to have an additional cell charge (or the only cell charge).
The first thing I did with the Apple Watch app on my iPhone was to turn off all of the notifications I don't need to know about. The only time now when my Apple Watch notifies me is for: Meetings, turn by turn directions (when using the Map app for directions), iMessages, and when to stand up. This is by MY design and I thank Apple for this layer of customization.
Apple Pay
AWESOME! Once you add your card to the Apple Watch app on my iPhone, it was: Order my food. Double click on the lower button, hold watch right next to the credit card swiper on the restaurant counter, wait for the tap on my wrist and a beep. It took less time to perform the payment than it took me to write this. Best time saver ever. The restaurant cashier told me, "Way cool! Is that the Apple Watch?  Amazing! This is the first time I saw one of those." Samsung and Google time to copy this!
Charging
Real easy, just put the charger cord in the power plug and plug it into the wall. Then put the magnetic charger on the back of the Watch. I preordered a watch stand that will embed the charger. That will make charging even easier. I will get this in June.
I will be traveling with the Apple Watch Sport soon and I will keep you posted.
Filed in:
get-click.com has a 22mm watch band adapter for the new Apple Watch. You need it to be able to use more bands easily. Just slide the old band with the Click adapter from the Apple Watch and slide the new band and Click adapter into the Apple Watch.
Amazing!
I supported the project for my new Apple Watch Sport Space Grey.
Support thier kickstarter today as it end tonight! https://www.kickstarter.com/projects/1516117990/click-the-first-watch-band-adapter-for-apple-watch
Filed in:
Now that I have my Apple Watch Sport (Space Grey) on order, I would like to dress it up a bit with a nice band. When I go out on a date at a nice restaurant, a sport band is out of place. I need a nice leather or metal band.
From talking with an Apple Store sales associate the metal link bands are made out of 100 pieces. 100 pieces! Wow. That surprised me. The process takes 9 hours to cut one link band. 9 Hours! Wow. That surprised me again.
With the Space Black link band from the Apple Watch line not being able to be ordered unless you order the whole $1099 Space Black Apple Watch. What can you do? Off to Bing-ing the internet! (Yes, I actually said that.)
What I ended up doing was to go to Kickstarter and backing "The Click – the first watch band adapter for Apple Watch". I was an early adopter and for $25 (with shipping) so I will get a space grey aluminum adapter with the space grey link band they have available. This will look nice and the cost savings is tremendous.
https://www.kickstarter.com/projects/1516117990/click-the-first-watch-band-adapter-for-apple-watch
They have leather and stainless steel link bands available.
Would I buy a stainless steel Apple Watch in the future? Yes. After seeing them they are very nice looking but for now the Apple Watch Sport is a good entry into this new world.
Filed in:
Love it or hate it but the Apple Watch has sold out their initial inventory with more coming rapidly. I know you already heard that. My Apple Watch Sport Space Grey ($399) has a arrival date of 4-6 weeks (Late May) and I ordered it within the firest 2 minutes (2:02a – 2:03a).
BUT
Now orders still are coming in and expected wait times (as of 12:30p CST) is now June for the majority of the watches.
I will bet all of the Google-sheep and Microsheep are cringing that this is a larger success than Android Wear and Micosoft Band,
I have even read news articles saying "no one is buyin the Apple Watch because there are no long lines in front of the store."  Really?  Those are only for appointments not actual sales since the Apple Watch is in a PRE-ORDER state.
Apple is one of the last great American companies that we should all support.
Filed in:
The keyboard and mouse use a wireless USB dongle. These are not the ones I will use for my vacation, I will purchase a smaller combined one.
The Rasphub is the main "hub" where everything gets plugged into: the pi by USB, USB Portable hard drive, USB keyboard dongle, and USB microSD card reader and adapter. The Raspberry Pi gets it's power from the RaspHub through USB power. Why I choose the RaspHub was it's powerful power supply that can power everything up, and it is a cute little raspberry.
What I learned is there is no BIOS. New user struggles. If you power the Raspberry Pi up with no microSD card inserted with a valid OS. Nothing will display on the screen. Once you fulfill that necessary requirement a color palette will display and the OS will boot.
Getting used to Linux is nothing new as I have used Unix in the past (25 years ago) and Mac OS X Unix very sparsely. I am not an expert but I can get by. I thought I will use Raspbian's File Manger to copy files from the microSD card to the hard drive but the only drive it shows is the boot microSD card. I have to mount the drives first. There is no GUI bard way to acomplish this. Terminal time!
Going through this exercise is a reason why many people won't flock to Linux, it rely too much on the command line to do simple tasks. Now that I said that I also looked at Puppy Linux and that version does have a mount/unmount utility. So the distro of Linux you choose may not be feature rich through the GUI. That is too bad.
Next I will get the 2.8″ TFT LCD screen plugged in and working. The manufacturers Adafruit are not finished with their Raspberry Pi 2 compatibility code changes. From what I read that LCD only supports Raspbian distro (it comes with the kernel changes prebuilt) so I will use that once it is available.
Onward to learning more about this $45/$35 little computer.
Filed in:
I need a device that will be an intermediary between a MicroSD card and a hard drive to save off pictures while on vacation.
During Bing searches (yes, I dumped Google as a search engine) I found many older devices that did this kind of thing. They never took off and were very expensive, plus were limited to just doing that.
Enter Raspberry Pi v2! Quad Core CPU with 1GB of memory.
My project will be pretty simple, but I can get creative and advance it further.
Apple' approach with the iPhone and iPad is they can transfer with a dongle any SD card to their internal storage. I use this for many years with our older camera. The new Sony camera we have uses 64GB memory cards and we can fill four on a week long trip easily.
I could do with Apple technology:
Buy both a wifi hard drive and an new iPad Mini 3 with 128GB of flash storage and copy the card to the iPad, then from the iPad Mini 3to an WiFi hard drive. This will be very time consuming.  Cost is about $800 for the iPad Mini 3 and the 2TB WiFi external hard drive.
I could also use a MacBook Air 11″ and transfer the files directly from the MicroSD card to a 2TB external hard drive. Cost is about $989 for the MacBook Air and a portable external hard drive.
An alternative solution is to use a credit card sized computer with a small screen with the MicroSD card and hard drive both attached and a small wireless keyboard/mouse. I am exploring this simple solution. Cost should be around:
Raspberry Pi Quad Core 1GB model ($45) – From Adafruit
Adafruit 2.8″ screen ($35)
Case from Adafruit  ($5)
PiHub with power adapter ($25)
MicroSD card reader ($10) – I already have these bought for my camera.
MicroSD Card ($15) for OS
External portable hard drive 2TB ($90)
Wireless Keyboard/Mouse ($20)
Total $245
I will keep you posted on my progress.
Filed in:
Today, 31 years ago Apple launched the first Macintosh personal computer.
The Macintosh has been one of Apple's most game changers. Today most of personal computers use what the Macintosh brought into the forefront of computing: Mice, Graphical User Interface, and Copy/Paste. Without Apple, Microsoft would never of created or released Windows as DOS was the money maker for them.
Xerox was the one who created the mouse and the GUI, but they never thought anyone would use it. Apple's $1 million dollar gift to Xerox Parc Place changes all of that.
You the consumer is the winner – so show Apple some well deserved love and buy a new Macintosh this year. You too Windows, Android, and Linux fanboys!
Apple Pay is here today and it works flawlessly and beautiful!
There I said it. The future of mobile payments is here and I just quickly paid for a quick meal in seconds.
The process is as quick as this when I bought my lunch today (Thanks for the picture McDonalds!):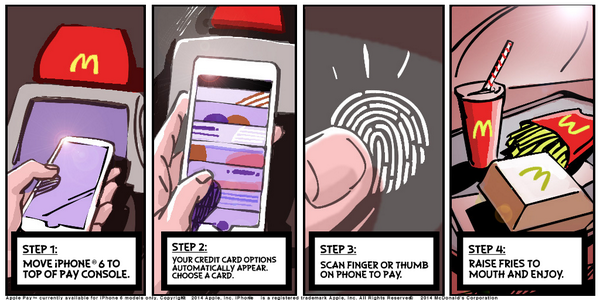 The setup was as easy:
Install Update iOS 8.1 (US supports Apple Pay).
Go to Settings > Passbook & Apple Pay
Set up your default settings (Addresses, phone, email)
Add you cards with your camera, then manually enter in the CCV2 number.
Verify and they are added to PassBook at the top of your SPG, Starbucks gift card, etc.
It could not get any easier than this.
I appreciate all of the VISA commercials saying their mobile payments are just as easy. If they were we would of all of been using these already.  Save the confusion and just use Apple Pay as VISA works with Apple Pay.
So places that I will continue to shop at includes: Macys, McDonalds, Subway, Whole Foods, PetCo, Panera Bread
Places I WONT VISIT AGAIN (until they have Apple Pay): Burger King, Taco Bell, Best Buy, Walmart
To be continued…
Hooray! You have a new iPhone 6 or iPhone 6 Plus and need a guide to quickly get your current iPhone content into it. Here you go!
1) Remove anything you don't need on your current iPhone.
Pictures (or backup to iPhoto or your Window Photos directory)
Music, Music Videos, iBooks, or Movies – have a few albums you don't want to listed, use iTunes to not sync them.
Applications – Use iTunes to not sync them anymore.
The more clutter you clean up now the faster your transfer time will be to your backup and to your new iPhone.
2) Update any apps to iOS 8 compatible on your old iPhone. Many times an update is available but the app will run yet on iOS 7. Update to make sure the older version won't cause havoc on your new iPhone – this is more of a "better safe than sorry".
3) Backup using iTunes. I think this is the best way as you can enable toe Encrypt iPhone backup option and store all of your passwords in the backup. Then the only password you will need to remember if the one used for this backup and your iCloud password on your new iPhone.
Select your old iPhone and select "This computer" and check "Encrypt iPhone backup".
Once I did not do this and every app I loaded (and iOS) prompted me for my password. This was very painful so save yourself by using the Encrypt option.
** If you are upgrading from a non-Apple smartphone – then use iTunes to transfer as much as your content as you can. The rest you will have to manually set up.
4 ) Plug in your new iPhone and using iTunes restore from that last backup. Proceed with the new setup on the iPhone afterwards and you should be all set.
5) Set up TouchID to get ready for ApplePay and other secure passwords.
6) Update any apps to take advantage of the new iOS features that were not updated in step 2 above under iOS 7.
8) Have fun!!
Source: http://support.apple.com/kb/HT1386